About cognitive behavioural therapy
Cognitive behavioural therapy (CBT) is a talking therapy that can help people who experience mental health difficulties. National guidelines recommend that CBT should be offered to people with:
anxiety, phobias and panic disorders
depression
obsessive compulsive disorder (OCD)
post-traumatic stress disorder (PTSD)
psychosis (hearing voices or unusual beliefs)
bipolar disorder
eating disorders.
Research shows it may also be helpful with other difficulties like:
chronic fatigue or pain
physical symptoms without a medical diagnosis
sleep difficulties
anger management.
CBT is based on the theory that your thoughts, feelings, actions and bodily sensations are all connected. The idea is that if you have a problem in one area, it can impact another.
By looking at how these influence each other and trying out different strategies to understand and change what you think and do, you can improve your wellbeing.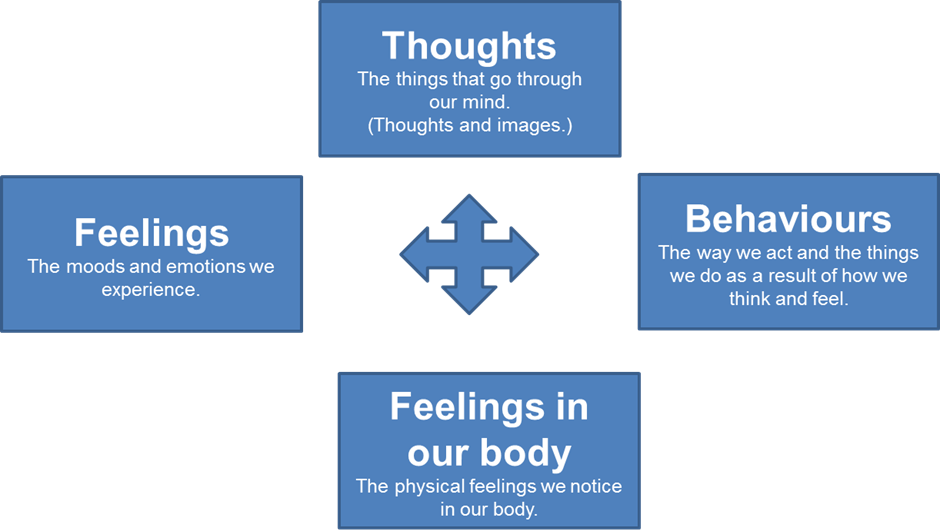 CBT starts by focusing on the here and now. However, it can be helpful to look at your past. Exploring things that have happened to you can help you to understand why you think, feel and behave in certain ways.
CBT is not about 'thinking positively' or learning that your thinking is wrong. Your therapist will not be 'analysing you' behind the scenes. They will not tell you to think or feel differently, although this may happen because of the new information you learn during therapy.
What to expect
Sometimes CBT is delivered as part of a group but it is usually delivered in person, on a one-to-one basis. Sessions usually last for an hour and take place weekly or fortnightly. The exact schedule will be worked out between you and your therapist. The number of sessions you will be offered varies.
Therapy usually happens in a community setting where you feel safe and comfortable. Sometimes in the course of therapy you and your therapist may go outside to try some things out but only if you feel okay with this.
Your first session
At your first session your therapist will give you an opportunity to ask questions. This will help you decide if CBT would be helpful to you at this time.
Your therapist will help you to work out what you want to achieve during therapy. This will set the plan for the work you will do together. Together, you will develop a shared understanding of the problem you want to change and some ideas about what might be keeping it going.
CBT is an active therapy and helps you to discover and test coping strategies that may work for you. You can do this with your therapist during sessions and on your own at other times.
How can I get CBT?
If you are receiving treatment from a TEWV service, then you can ask your care coordinator or lead professional about how to access CBT. Getting CBT will not affect other care you receive. If you are not currently involved with TEWV services, then please ask your GP.
Where can I find more information?
You can find more information about CBT online at https://www.babcp.com.
The Department of Health also have a useful guide about talking therapies for mental health difficulties called 'Choosing Talking Therapies'.
L951, V3, 11/08/2022 (Archive: 10/08/2025)