Are you a carer?
A carer is anyone who cares, unpaid, for a friend or family member who due to illness, disability, a mental health problem or an addiction cannot cope without their support.
A carer can be anyone: an adult; parent; young person; elderly person or a child.
Many carers do not see themselves as a carer, for them the caring relationship is simply part of normal everyday life.
Carers of all ages told us that they want to be involved and informed but also want us to recognise that their caring role can have an impact on their own health and wellbeing.
Carers charter
The carers charter was developed by carers for all who support or help a person receiving care from Tees, Esk and Wear Valleys NHS Foundation Trust.
Download the carers charter poster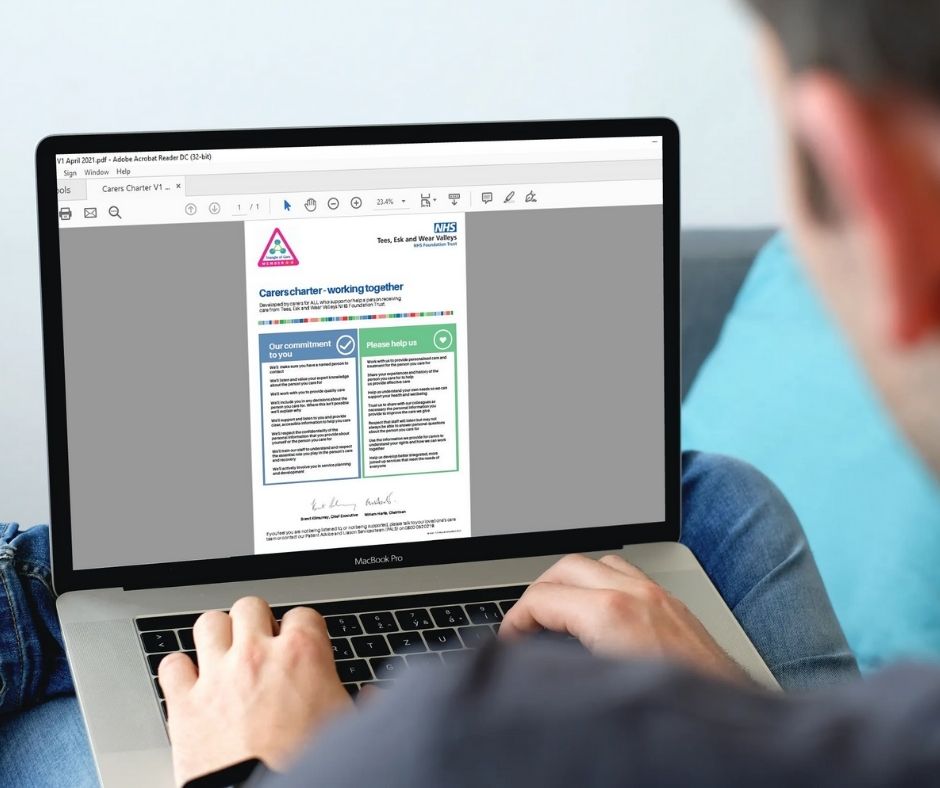 Our commitment to you
We will give you a named person to contact
We will listen and value the expert knowledge you have and work with you to provide quality care
We will include you in any decisions about the person you care for and where this is not possible we will explain why
We will support and listen to you and provide clear accessible information to help you care
We will respect confidentiality of personal information from you and the person you care for
We will train our staff to understand and respect the essential role you play in the person's care and recovery
We will actively involve you in service planning and development
Please help us
Work with us to provide personalised care and treatment for the person you care for
Share your experiences and history of the person you care for to help us provide effective care
Help us understand your own needs so we can support your health and wellbeing
Trust us to share with our colleagues as necessary the personal information you provide to improve the care we give
Respect that staff will listen but may not always be able to answer personal questions about the person you care for
Use the information we provide for carers to understand your rights and how we can work together
Help us develop better integrated, more joined up services that meet the needs of everyone
If you feel you are not being listened to, or not being supported, please talk to your loved one's care team or contact our Patient Advice and Liaison Services team (PALS) on 0800 052 0219.
National and local carer organisations
As a carer, you could be entitled to support from the local authority of the person you're caring for. You can call them and request a carers assessment.
Other useful organisations:
How can carers get involved?
If you would like to get involved and have your views heard, you can do this by:
Joining a carers organisation.
Attending events, groups and meetings.
Providing feedback by completing questionnaires.
Become a member of the Trust.
Register with the involvement and engagement team.
As a carer if you would like to get involved or would like more information about how patients and carers can help us to improve the quality of our services, contact the involvement and engagement team on 01642 516468.
Triangle of Care
The Trust is a member of the UK's Carers Trust Triangle of Care membership scheme which recognises carers as key partners in the planning and provision of mental health care.
This was initially developed by the Carers Trust to improve mental health acute services by adopting six principles.
Wards, crisis teams and community teams aim to apply these principles within services.
It aims to promote safety and recovery for people with mental health issues and to encourage their wellbeing by including and supporting their carers.
The six principles
Carers and the essential role they play are identified at first contact or as soon as possible thereafter.
Staff are carer aware and trained in carer engagement strategies.
Policy and practice protocols regarding confidentiality and sharing information are in place.
Defined post(s) (referred to within teams as carer champions) are in place.
A carer introduction to the service and staff is available with a relevant range of information across the acute care pathway.
A range of carer support services is available along with a self-assessment tool.
The Triangle of Care can deliver many benefits including:
Recognition for you as a carer. This can help you feel that you are taken seriously.
An appreciation of your unique knowledge about the person you care for.
Information about the person you care for including their illness, medication and prognosis.
Emotional and practical support, recognising and supporting you to have a life of your own alongside your caring role.
Assistance with care planning and knowing who to contact in a crisis or emergency.
Helping you to feel part of a team and less isolated.
Helping you feel stronger, more resilient and better able to cope with caring.
More information on Triangle of Care is available.