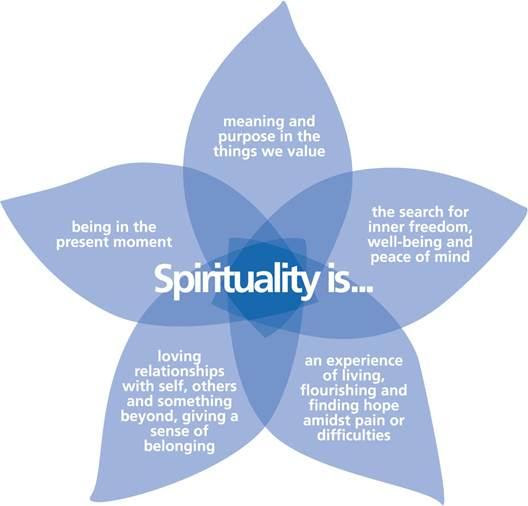 Trust service users and staff have designed our spirituality flower to help us better understand what your spiritual needs and concerns might be so we can help make you more comfortable while with us.
Our service users say that for them spirituality is not about a particular set of activities or interventions, but something which runs through the core of everything we need to consider in our provision of care.
What do we mean by 'spirituality'?
Spirituality means different things to different people. It is helpful to understand the difference between religion and spirituality. People, whether they are religious or not, may have different spiritual needs at different times of their life. Spiritual needs and concerns include, but also go beyond, religious ones.
Why is spirituality important?
To be a human being is to be a spiritual being. Any care which is person-centred will attend to spirituality – even if, for some people, that is simply to confirm that they do not wish to discuss it.
Surveys carried out nationally and within the Trust confirm that many service users wish to have spirituality considered within their care because it helps them to recover and keep well. Spirituality is at the very heart of the 'recovery model'.
Evidence supports the importance of spirituality and religion in understanding the causes of many mental health conditions, and the potential benefits of considering spiritual and religious factors within treatment planning.
The Human Rights Act 1998 and the Equality Act 2010 require us to make sure that service users are able to practice their religion or beliefs and are not discriminated against because of them.
How do we go about it?
Service users say that they would like people who work in mental health services to demonstrate the following qualities:
'start from where I am, not from where you think I am'
empathy (that means getting inside somebody's world and understanding what it is like for them)
quality time (that doesn't have to mean a lot of time, but does mean time without distractions)
attention to the somebody's emotions, culture, identity and dignity
seeing someone as having strengths as well as needs
'working with' rather than 'doing to' a person.
These qualities are especially important when we are talking about spirituality and the trust would hope that you can expect to find them demonstrated by our staff.
What can I expect from TEWV services when it comes to spirituality?
To have my spiritual or religious beliefs and practices respected as part of my resources to keep well.
To have support for my spiritual or religious practices if I am in hospital.
To be able to talk to staff about my spiritual needs or concerns and to have these included in my care plan.
To have access to support from a chaplain if I wish to.
To ensure that I am protected from 'spiritual abuse' (that is having another person's beliefs or practices forced upon me).
What resources are available?
There are three main resources within the trust to try and help ensure that your spiritual and religious needs are met:
The Chaplaincy Team who are available for spiritual, religious and pastoral care
The Spirituality Workbook. This is a resource which you can either work through on your own or with a member of staff. It will help you think a bit more about what 'spirituality' means and how it might be important to you
The Spirituality Flower. ~Working through the petals of the spirituality flower and some of the questions below may help you to explore your own spirituality and spiritual needs in more depth.
Exploring the petals of the spirituality flower
If you wish, your care team can use the trust spirituality flower with you to explore your spiritual or religious needs. Doing this can help staff find out your spiritual or religious beliefs and practices to help you feel comfortable and properly supported by our teams.
If at any stage in your care you feel it would be helpful to go into some of these themes or questions on the spirituality flower in more depth, then you might want to consider some of the questions that go along with each petal of the flower below.
It might be enough simply to think about some of these questions by yourself, but you might also find it helpful to discuss them with a member of staff, or perhaps with one of the trust chaplains.
Please remember, it is absolutely your choice to decide which, if any, of these questions are relevant to you at the moment.
Meaning and purpose in the things we value
what gives your life meaning?
what do you believe in?
is there a specific aim that is important to you at the moment?
are you spiritual, religious or neither?
how do your beliefs affect the care you would like to receive from the Trust?
The search for inner freedom wellbeing and peace of mind
where do you find hope, strength, comfort?
what are the things that make you feel alive, happy, peaceful?
what helps you to feel most yourself?
what is there in your life that gives you internal support?
has being ill made any difference to any of these?
An experience of living, flourishing and finding hope amidst pain or difficulties
when you are really upset where do you turn for help?
what keeps you going?
what do you hope for?
is your current situation affecting your ability to do things that usually help you spiritually?
Loving relationships with self, others and something beyond, giving a sense of belonging
is there a person or a group of people you really love, or who are really supportive to you?
how do you get on with other people?
what would you like to change about your relationships?
are you part of a spiritual or religious community – is this supportive to you?
do you believe in God; if so, what kind of relationship do you have with God?
Being present in the moment
when do you feel truly alive?
how much time do you spend going over the past or worrying about the future?
do you have any personal spiritual beliefs or practices; what are they; do they help; is there anything we can do to support them?
What happens next?
After thinking or talking about some of these questions, you might decide that there are some actions you want to take to help support your spiritual wellbeing.
These might include:
Using the spirituality flower to explore your spirituality and spiritual needs in greater depth: a member of staff will be able to help you to do this if you wish.
Making provision for religious practice: you may wish to attend worship or prayers; you may need resources such as scriptures, a prayer mat or a rosary or to ensure that your religious dietary requirements are catered for
Making provision for non-religious spiritual practice: people, whether they are religious or not, may experience spiritual benefit in such things as walking and exercise, yoga and Tai Chi , having access to nature, creative activities such as art, music, cookery or gardening or practising mindfulness.
Referral to the chaplaincy service: the trust's chaplains are available to talk to anybody about anything and offer support to service users both in hospital and in the community. Chaplains may be from any faith and are recognised and authorised by their faith communities to offer this kind of care.
They are not just there for religious people and will never try to impose their own beliefs or morality on you. You can trust a chaplain to listen to you and not to judge you.
Referral to specialist therapies: there are some therapies available which have a particular spiritual dimension to them. One example is Mindfulness Based Cognitive Therapy which can be very effective for people with recurrent depression, anxiety problems or other difficulties. You may wish to have a discussion with your care coordinator about the suitability of one of these for you.
Making contact with a local faith group: you may wish to find out about a particular faith, to begin practising it, or to resume a practice which has been important to you in the past by making contact with a local faith community.
Making contact with a local activity group: It may be that there are local groups which can help you to get involved in some of the non-religious activities mentioned above. Some people also find spiritual benefit in getting involved in some voluntary work.
Seeking further support
There are clinicians of all disciplines around the Trust who have particular experience in this field.
If you would like some further advice or support from one of the chaplains, please e-mail tewv.chaplaincy@nhs.net.
Other resources
Trust resources
https://www.tewv.nhs.uk/services/chaplaincy/
Recovery College Online: Course in 'Spirituality and Recovery'
www.recoverycollegeonline.co.uk
Royal College of Psychiatrists Spirituality Special Interest Group
http://www.rcpsych.ac.uk/workinpsychiatry/specialinterestgroups/spirituality.aspx
The National Spirituality and Mental Health Forum
http://www.spiritualitymentalhealth.org.uk/
L742, V6, 24/07/2022 (archive: 23/07/2025)