A gardening group is helping young people in North Yorkshire blossom.
The group, based at Lake House in Scarborough, was launched to help reduce depression, anxiety and stress for those accessing child and adolescent mental health services at the complex.
Now members meet weekly to spend time together in nature – cultivating plants and vegetables and raising money for charity by selling some of their produce.
"It's a relaxing space for everyone," said child and adolescent mental health (CAMHS) practitioner Karen Dickinson, who works for our Trust.
"Gardening can have a positive impact on mental health and wellbeing. The confidence of the young people has grown, and their creative imaginations have blossomed."
Gardening project is flourishing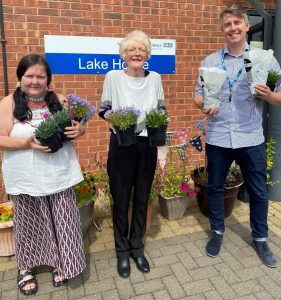 The idea for creating a green space at Lake House was first discussed during the pandemic – with the aim of making it accessible to patients, their families, carers and Trust staff.
People from across the local community have now helped turn the dream into a reality – by donating plant pots, tables and chairs to be upcycled and used in the garden.
"The tables and chairs are taken outside each day and young people tend to the plants, flowers, herbs and vegetables, keeping a diary to track progress," said Karen.
"They have taken responsibility for the area, and really enjoy the nurturing aspect of gardening."
Raising money for charity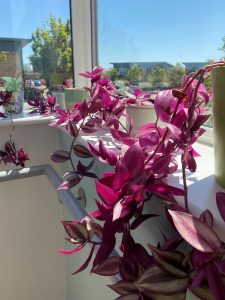 The band of young gardeners has not only learned to look after a whole range of plants, but also to take cuttings – enjoying particular success with the house plant Tradescantia.
Indeed, a batch of the plants were recently donated to St Catherine's Hospice shop to sell, raising an amazing £141 in memory of community nurse Derek.
Team manager Matt Bower said: "Derek worked in the team for 15 years and was a much-loved member, liked by all the young people and families that worked with him.
"His easy calm manner enhanced his skills at establishing a therapeutic relationship and he was nurturing and containing to all who came across him in his work life."
Members of the gardening group have also adorned the interior of Lake House with house plants, much to the delight of visitors and staff – including TEWV governor Judith Webster.
Judith visited the cocreation gardening project earlier this summer to meet the green-fingered team – and has even donated some of her own plants to help out.
"The project is inspirational, it really is. These children and young people are our future, and the creation of a relaxing space is an amazing way to support them," she said.
The father of one of the young gardeners said: "Although it's a difficult journey to get my daughter to the group, it is worth it to see the smile on her face when she attends."
Abi Collins, cocreation lead for CAMHS North Yorkshire and York, today praised the project for enhancing the area for all families, staff and visitors to Lake House.
She added: "The young people gain so much from this nurturing innovative and sustainable space."