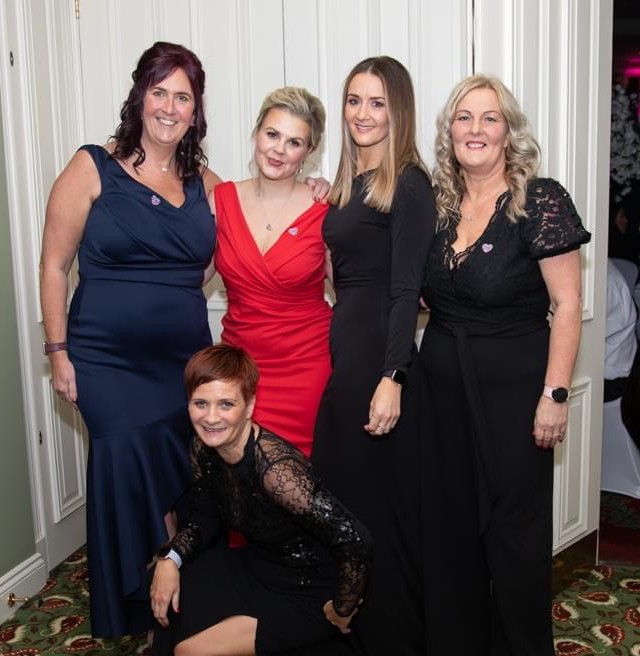 A medical secretary from our Trust has won national praise for her tireless charity work – with a special mention in the House of Commons.
Claire Starsmore, who heads the Pink Ladies of East Cleveland fundraising group, has helped collect £131,000 for Cancer Research UK (CRUK) projects in memory of her aunt.
Hundreds of people have benefitted from the donations – and now the Ladies have received official recognition from Middlesbrough South and East Cleveland MP Simon Clarke.
Mr Clarke, who was taking part in a debate on the challenge posed by cancer in Tees Valley, paid tribute to Claire and her group for their amazing work during a recent Commons speech.
"It was lovely to get a mention, but no-one can do this by themselves. The amount of support we give each other as a group is brilliant – and our supporters are great too," said Claire.
"We just want to try and make sure people don't go through what we did – losing someone so close to us. We are all guilty of taking life and loved ones for granted.
"As Pink Ladies we would ask you all to just stop, look at her or him or the kids or your friend/neighbour, and breathe in the love and appreciation for all you have. Research into cancer is helping to prevent deaths, which makes raising this money so important."
Tribute to a special lady
The original Pink Ladies group was formed in 2012 when Claire's aunt, Jacqui Hampton, was diagnosed with breast cancer. Her friends and family immediately wanted to help out.
Indeed, so determined was Claire to raise awareness and money for CRUK that she and Jac's best friend, Mandy Davies, put themselves forward for the Great North Run.
The pair completed the gruelling half marathon after months of training and, following that success, the Pink Ladies became an officially registered fundraising group for the charity.
Events such as an annual Pink Ball and PINKFIELDS music festival soon followed – with donations going directly to researchers at the Cancer Research UK centre in Newcastle.
"Jac was the heart and soul of the Pink Ladies back then," said Claire. "She loved the glam of the fundraising Pink Balls we put on, as well as the wellies of our PINKFIELDS festivals.
"She was a real force to be reckoned with. When she was diagnosed, she told us to use her story to help raise money for others. She wanted to use her illness for good – and she did.
"Jac was so loved by everyone. When she went into remission, we were all overjoyed, but then she developed a secondary brain tumour in 2015 and sadly lost her battle.
"We, as her family and friends, put our gloves on to help her fight this awful disease, but it was not to be. She would help anyone and everyone, but we couldn't help her at the end."
Memories of beloved aunt live on
The Pink Ladies have, however, continued to honour Jac with fundraising events year after year – including an "absolutely terrifying" abseil from the Tees Transporter Bridge.
The hugely popular Pink Ball still continues on an annual basis too, although PINKFIELDS festival is currently on hold – until a new venue can be found in the local area.
"We have never forgotten Jac, and we never will. She deserves to be remembered for the truly wonderful person she was," said Claire, who lives in Loftus.
"All the money we raise in Jac's memory stays local, and goes to support research into breast, testicular, blood and childhood cancers. I think she would be pleased by that."
Force to be reckoned with
Despite more than a decade of fundraising, the Pink Ladies are more determined than ever to raise money to help CRUK researchers find kinder therapies and life-saving medicine.
"Currently there are five Pink Ladies including myself, Jo Starsmore, Michelle Dewsbury, Emily Brown and Debbie Earl, and one Pink Lad – my son Harry," said Claire, a medical secretary with the Secure Inpatient Service at Ridgeway in Middlesbrough.
"Looking back, I never expected the group to raise this kind of money, but the continued support has been overwhelming from local businesses and the people of our community.
"This continues to be a complete passion for me. The thought of not doing something breaks my heart, as I promised Jac I would continue in her memory."
Helping to save lives
Such is the success of the group that the next Pink Ball, planned for November, is already a sell out – and there are plans for other fundraising events over the next few months as well.
"Cancer does not discriminate, it does not care, it just wrecks lives. That is why I and the rest of the group wear our Pink Ladies badges with pride," said Claire.
"So many people need help, and we want to help CRUK with their pioneering work. We want people know they are not alone. We want to help others keep their loved ones for longer."
Richard Hand, general manager of Secure Inpatient Services at Durham, Tees Valley and Forensic Care Group, today praised Claire and her Pink Ladies for all their work.
"I was astounded to hear the total monies Claire and her group of Pink Ladies had raised in the last 10 years. This is a huge amount for a very worthy cause," he said.
"Claire exhibits the compassion that we so regularly talk about within our Journey to Change, and not only does she obviously demonstrate this outside of work with efforts such as this, but she is noted as being very kind and caring within the team.
"We are incredibly proud to have her as a colleague within the Ridgeway, Secure Inpatient Services."
Further information:
"Supporting the fighters, admiring the survivors, honouring the taken and never ever giving up hope," Claire.
Since Cancer Research UK was formed in 2002, there has been a 16% fall in death rates due to cancer.
To put this into context, in the early 2000s, around 310 in every 100,000 people died from cancer each year in the UK. Today, it's around 260.
Each one of those numbers is someone's child, parent, partner, sibling or friend – whose life has been saved by advances CRUK has contributed to.
The Pink Ladies raised over £10,000 for CRUK in 2013 through a Pink Evening at Brotton Club, the Great North Run and a Pink Ball at Guisborough Hall.
In 2014 the PINKFIELDS Festival was launched in May, followed by another Pink Ball in November – bringing the fundraising total to over £25,000.
PINKFIELDS was a sell out in 2015 and raised over £7,000. Sadly it has now ceased – until a new field can be found to accommodate the music festival.