An apprentice health care assistant has found the recipe for happiness for her patients – by producing intricate art displays at two Tees, Esk and Wear Valleys NHS Foundation Trust sites.
Karen Wheelhouse, who works on Rowan Lea Ward at Cross Lane Hospital in Scarborough, has already transformed the discharge area with a beach-themed painting.
Now the former art teacher has drawn on her talents to create a seaside mural on the wall of a new patient cafe at Springwood Unit in Malton too – based on the theme 'A Recipe for a Holiday'.
"The words of the poem come from an art project I once ran, with the recipe format bringing together the simple ingredients that good holidays are made of," said Karen.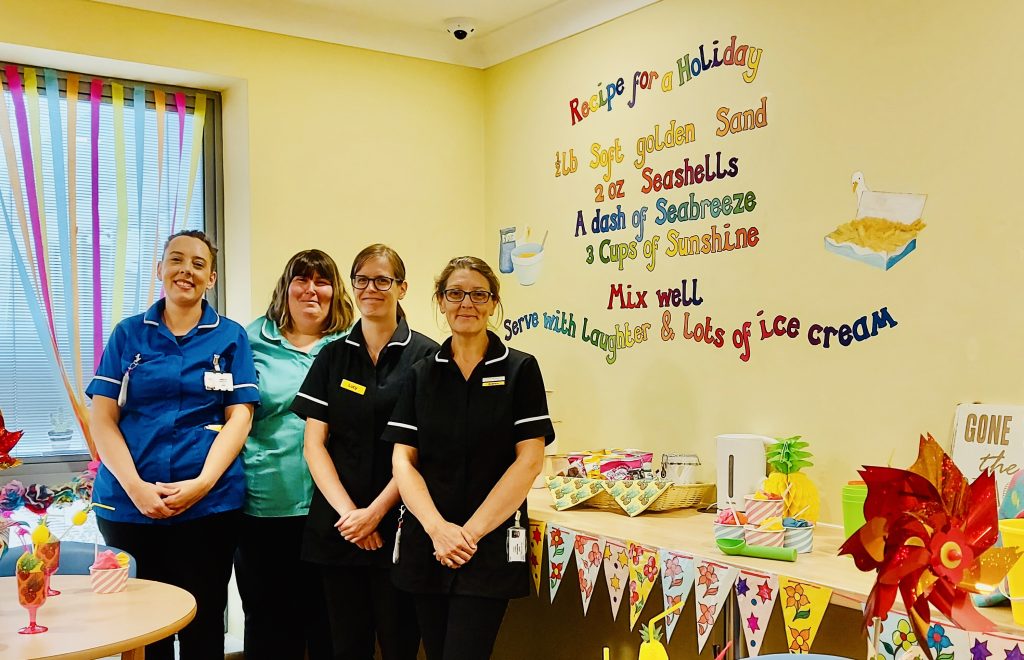 "While I've been painting, patients have been watching me work. The mural has certainly fulfilled its role as a conversation starter and is helping to bring back memories as well."
Arty Roots
Karen, who is originally from Sheffield, developed an interest in art and crafts at an early age – spending her childhood immersed in drawing, painting, sewing, writing and singing.
She went on to teach art in schools for ten years, before moving into home care and eventually joining the Trust last November – where her artistic talents soon came to light.
"I'm so grateful to my former ward manager, Karen Ashby, who first encouraged me to paint and, following her promotion to our Modern Matron, is still supporting my work," said Karen.
"It's wonderful to be able to create artwork which cheers people up. If you like to paint and do art, as well as helping people at the same time, it just doesn't get any better than that.
"Karen has also encouraged me to hold therapy sessions with patients. We sew, we paint, we draw, and we sing as well. I never thought I'd do all of these things as part of my role."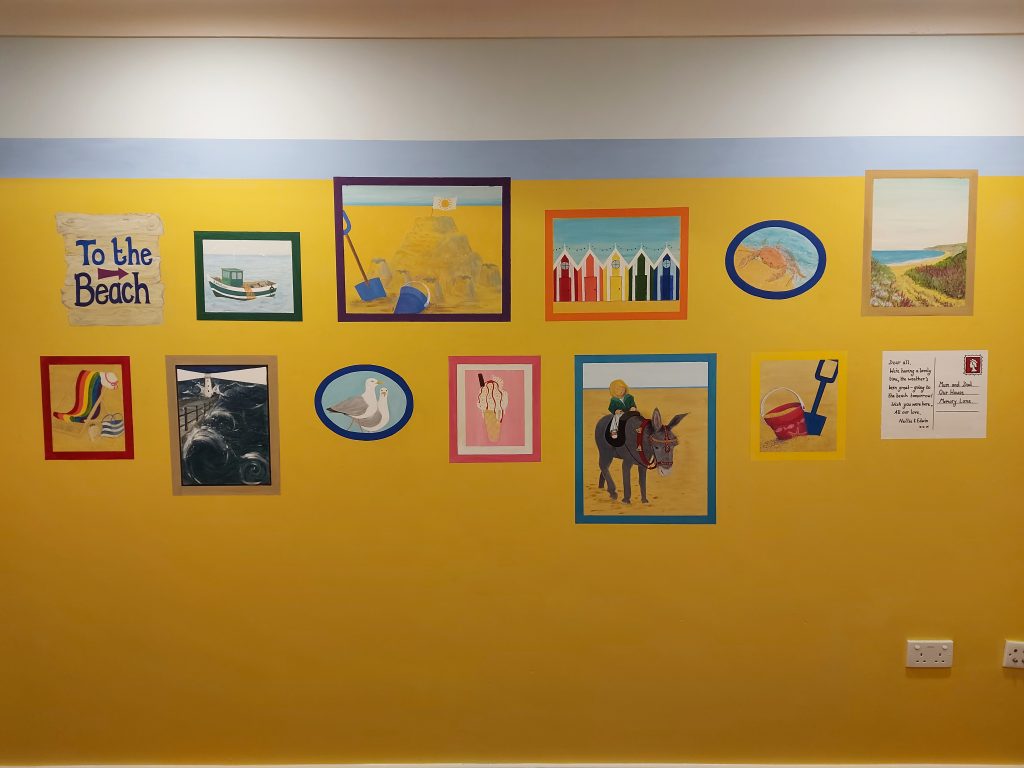 The initial idea to create a seaside café at Springwood came from activity co-ordinator Lizzie Brown, who organised the transformation of a former storage space into the new dining area.
Karen was then asked to create several pieces of art to unite the café and holiday themes and, after putting the final touches to her work, she is delighted with the final outcome.
She said: "Lizzie worked so hard to make the room into a lovely space for patients. The decorations and beach-themed trimmings she's put together make it look fantastic.
"This has been a real team effort and I've really enjoyed being part of the project, as I love making people happy. It is a real privilege to have been asked to help out. I do feel blessed."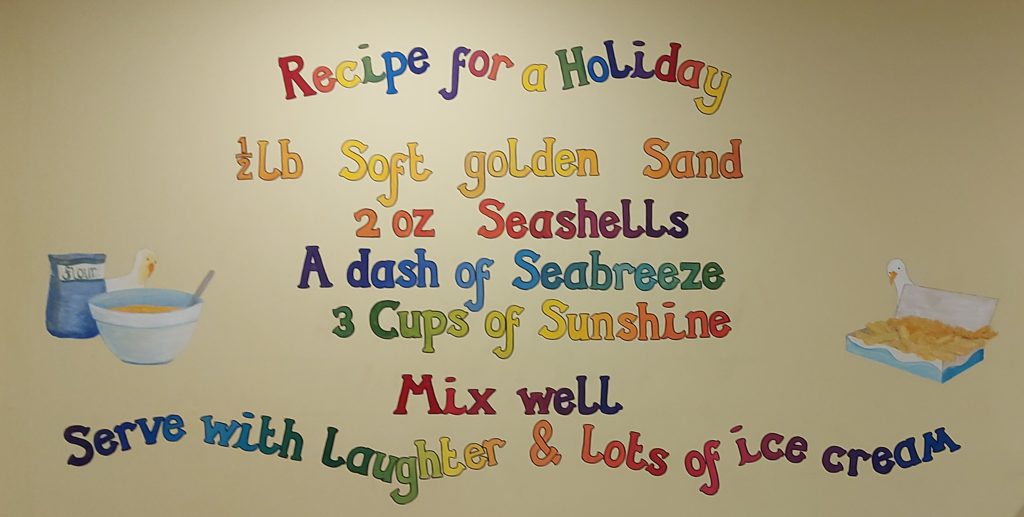 Karen's plans for the future include finishing a new mural at Rowan Lea – then she's got her sights set on another spot at Springwood, which she'd love to paint with a potting shed theme.
"We're encouraged to share our talents to enhance patient experience. Without this support, I wouldn't have realised my non-clinical skills could be so fully utilised here," she said.
"I don't want to ever leave and, even when I eventually retire, I'll probably come back and paint anyway – if they'll have me. I just need a few more walls to work with, that's all!"
Cheering up patients
Karen Ashby, who is the Modern Matron of both Springwood and Rowan Lea, today praised the work of everyone involved in creating the café.
"The team works really hard to be creative in supporting patients with dementia to have the best quality of life, and we feel lucky to have Karen as part of the team," she said.
"Karen has painted several pictures on the café walls and our patients respond to each, prompting special memories – which encourages conversations, smiling and laughter.
"We encourage all our team members to share their creative talents, making coming to work so much more enjoyable – and enhancing the patients' hospital experience too."
Recipe for happiness
Ward manager Denise Teasdale added: "Karen's wonderful paintings have brought our little café to life. They are a real talking point, and we all enjoy reminiscing about seaside holidays with a cuppa and cake.
"Therapeutic mealtimes are so important to our patients living with dementia, and Karen's murals have enhanced this experience for them. We all love them and can't wait to see what she has in store next."
If anyone is interested in joining the Springwood team, or volunteering on the ward, contact Karen Ashby on 01723 384601 or 01653 616000.