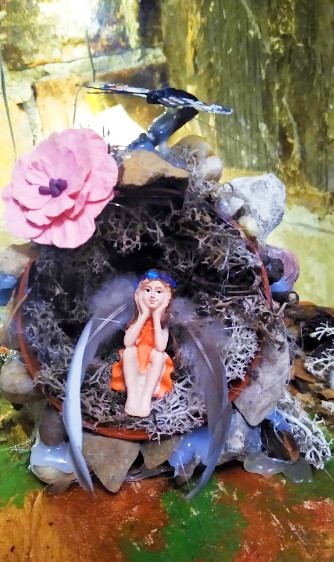 A fairy tale start to the New Year has been prescribed for children being treated at a North Yorkshire hospital.
Patients at Foss Park Hospital in York have worked for months on creating a magical collection of fairies from materials foraged on nature walks and donated by local businesses.
Now the unique hand-crafted pieces are to be donated to a children's ward at Scarborough Hospital, to create a magical garden filled with fairies, hidden alcoves and wind chimes.
Carla Kelly, activity co-ordinator at Foss Park, which is run by Tees, Esk and Wear Valleys NHS Foundation Trust, said: "It has been a really lovely project to work on.
"We are always looking for new ideas for activities, especially for creating things that have a purpose, and the fairy theme came up. It sounded like a magical idea – and it really was."
Magical project
Work on the project started in June last year – when a fairy workshop was set up in the sensory room for Minster Ward at Foss Park. It immediately attracted great interest.
"So many patients wanted to get involved, which was really nice. Knowing that the finished fairy garden was going to be donated to a children's ward was a real draw," said Carla.
"It got to the point when people were asking to work on the fairies and were disappointed when other activities were planned. Everyone was so committed to this project."
"A lot of time and effort went into creating all the fairies, and each is unique. I've never done a project quite like this before, but it's the first of many I hope. It was really therapeutic."
A fairy tale ending
Carla worked alongside artist Griselda Goldsbrough, art and design development manager at York and Scarborough Teaching Hospital NHS Foundation Trust, on the magical project.
The pair regularly team up to create artwork and murals around the Foss Park site – but developing the fairy tale garden was a completely different type of project for them both.
"It was Carla's idea to work on something that had a purpose, like fairy ornaments, and I suggested it would fit in with a garden project we were doing at Scarborough," said Griselda.
"The aim was to make something magical for children to enjoy while they are poorly. What the patients at Foss Park have produced is far beyond what we ever imagined or expected."
Opening magical doors
Each of the fairies took several hours to make, with foraged items – such as pieces of word, stones and leaves – used to make the magical models completely unique.
"The staff at Foss Park are some of the best people I've ever worked with. They are just so full of great ideas to get patients involved in different projects and activities," said Griselda.
"It's important to have creative projects in health settings. It's like opening little fairy doors to something completely different – it gives patients purpose and a sense of community.
"Often people don't realise how creative they are, until they pick up a pencil or join one of our projects. It can help open up a whole new aspect of their lives and give them a new interest."
Happy ever after
The Foss Park fairies have now been transported to Scarborough and, once the fairy garden has been set up outside Rainbow Ward in the spring, Carla is planning a special visit.
"I can't wait to see what the models look like actually in place in the garden, rather than on tables in our sensory room. I'm sure it will be an absolutely amazing sight to see," she said.
"It was such a joy and privilege to be involved in this. I'm planning to take lots of photos, as I think our patients will get an awful lot of pleasure seeing the fairies at their final destination."