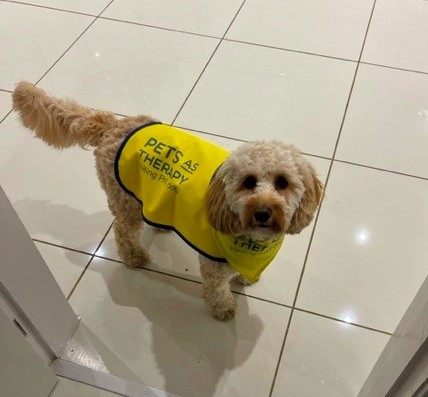 Just paw-fect!
Meet the new leading lady at our Trust – Ruby, a cute cockerpoo who has just passed her Pets As Therapy training with flying colours.
The cuddly pup recently made her first visit to a Trust site – where she helped spread joy and happiness among staff and patients at Lustrum Vale in Stockton.
"She just seemed to know who needed a hug or a stroke, which made me quite emotional," said her owner Kelly Conway, who works in the voluntary service team at TEWV.
"Therapy pets bring such happiness to the people in our care. It was brilliant to see patients making a fuss over Ruby – she loved it, and so did they. It put a smile on all of our faces."
Kelly, a voluntary service coordinator with TEWV, had high hopes of training Ruby as a therapy pet when she first got the fluffy pup at 12-weeks-old.
Indeed, she spent a year getting her used to busy places, loud noises and large groups before putting her through a PAT assessment – when Ruby proved herself to be paw-some!
"We do have a few registered volunteers, but we are always looking for more. I always knew I wanted Ruby to work as a therapy dog, as she has such a lovely nature," said Kelly.
"She's still only a puppy really at 14 months, but she's not a bouncy dog. She's very chilled, relaxed and laid back – just the temperament needed if you are visiting a busy ward.
"I might have waited a little longer before putting her through the assessment, but I got a call from Lustrum Vale asking if we had any therapy dogs – which made me take that final step."
Such was the success of Ruby's first visit that she has since made trips to both West Park Hospital in Darlington and Roseberry Park Hospital in Middlesbrough – to the delight of all.
Indeed, invitations are now piling up for the pair and, as Ruby is a poodle mix, even people who are allergic to most other dogs will hopefully be able to give her a cuddle.
"I probably got as much out of that first visit to Lustrum Vale as Ruby did. She really seemed to enjoy all the attention and it all felt so rewarding. We loved it," said Kelly.
"I would encourage anyone considering enrolling their dogs as therapy pets to just do it. It's been such a good experience – both for me and for Ruby. It's amazing to spread such joy."
Dr Hannah Crawford, director of therapies, today welcomed Ruby to TEWV – and thanked the owners of all therapy pets who visit the Trust year-round for their support.
"As an animal lover and a dog owner myself, I can really understand how pets bring a smile to people and make our days that little bit more special," she said.
"Therapy pets really do spread happiness when they visit our wards. I'd like to say a special thank you to the owners who volunteer to do this – we really do appreciate your support."
** To find out more about registering your pet as a therapy animal and volunteering at the Trust contact TEWV.volunteer@nhs.net