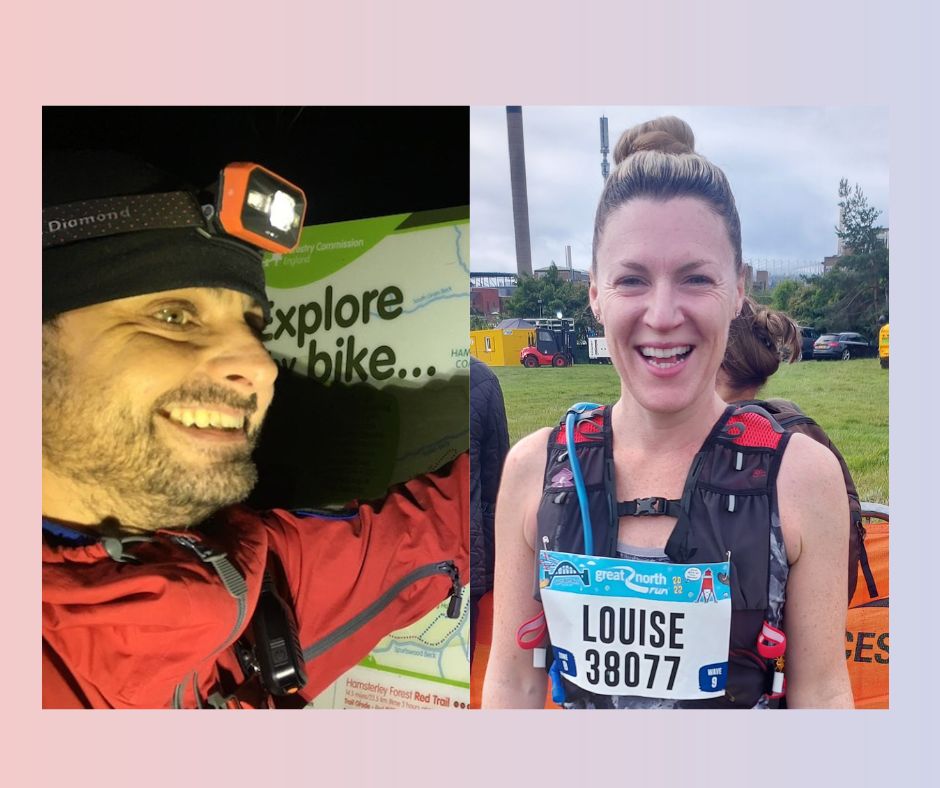 A teacher's wish to pay tribute to Trust staff who helped her husband in a time of need has led to a legacy of hope and care in his memory.
Mum-of-two Louise Tomlinson took on the challenge of the Great North Run (GNR) to highlight the vital work of the crisis service at Lanchester Road Hospital, Durham.
Tragically, just weeks after she raised £300 as a thank you to service staff, her husband Marc – a member of the Mountain Rescue for over 14 years – died suddenly of a heart attack.
"Marc suffered from depression for years and, when things reached a critical point in 2021, the crisis team stepped in to help. I will always be grateful for that," she said.
"The staff were amazing and gave him someone to listen to him, someone to help him, someone to support him – which is why I wanted to raise money for the service.
"Up until the day Marc died he was feeling good about his mental health, so much better than before, and we'd had a lovely few days together beforehand. That is something I'll never forget."
Legacy of hope and care
Despite Louise's on-going grief over the loss of Marc, she remained determined to deliver the money raised – and recently visited Lanchester Road to officially hand over the cheque.
The funds are to be used to create wellbeing packs for staff, which will provide an on-going legacy of hope and care in memory of Marc and the support he received.
"Although it has been a tough few months since losing Marc, I really wanted the team to get the funds I had raised for them," said Louise.
"I will always be grateful for all that the crisis team did for us, and I would like the wellbeing packs to be a token of that thanks in memory of Marc."
Raising awareness of our Trust
Louise, who lives in County Durham, took part in the Great North Run for the first time in 2021, raising money in aid of Cancer Research in memory of her father.
Last year, however, she opted to collect for the crisis service – in tribute to the care and support provided by doctors, nurses and other staff when Marc needed help.
"I'm really passionate about the need for more mental health awareness," she said. "Some people feel they don't have anyone to talk to, but there is help out there.
"Our whole family will always be grateful for the amazing work of the crisis team. We can't thank them enough for being there for us and helping us through that time.
"The wellbeing packs will help the memory of Marc, and everything the team did for him, live on."
Andrea Card, service manager, said: "Our sincere condolences to Louise and her family. She is going through a very hard time, but was still determined to help us.
"She not only helped raise awareness about our mental health services by doing the GNR, but also raised money for the wellbeing packs too – which were very welcome indeed.
"Thank you for all your help Louise, it really is much appreciated."