A helping hand is on the menu at a flourishing wellbeing café in North Yorkshire.
Selby Town Primary Care Network has joined forces with Dementia Forward to host free weekly activity sessions for people coping with illness or long-term health conditions.
"We wanted to create a safe place for anyone to enjoy, regardless of diagnosis or condition. Everyone is welcome," said Helen Brazil, dementia care co-ordinator for the network.
"This is a first for us, and a first for an NHS group really. The café has allowed us to stretch the boundaries and extend what we offer. It's the direction we want holistic care to go in."
The wellbeing café, which is backed by the Community Mental Health Transformation programme, is held each Wednesday from 10am-12noon at Selby Methodist Church.
Fun and games
A wide range of activities have so far been organised – including a ukulele band show, history talks and chair exercises. Other events are now being planned for the future.
"The café was prompted by the realisation of how much human contact and support people had lost during the pandemic. That's what spurred us on to launch it," said Helen.
"We want people to know we are here for them; here to support them, and here to make sure they can enjoy themselves too. We want them to know that this is their own space.
"A lot of people who attend have come via health referrals. But the group is also about helping to combat loneliness and isolation – everyone who joins is made welcome."
Indeed, one of the café's volunteers, 93-year-old Albert Hamer, plays a key role in ensuring everyone feels at home – as he is the group's beloved chief meet and greet doorman.
Happy to help
Albert, a former processor at an oil extraction plant, cared for his wife Ethel when she developed dementia and knows how to put a smile on the faces of café visitors.
"It's all about meeting and greeting people properly. If you do it well, they come back – and that's what you want. I try to be a bit of a friend to them – to be happy with them all," he said.
"I just love this role and make sure people feel they are welcome. It doesn't matter what they need, I just try to help them."
Membership of the popular café group ranges from late 30s and upwards, with a host of volunteers of all ages. Indeed, the popularity of the café is growing from strength to strength.
Funding, however, is due to come to an end in July this year – but talks are currently on-going to keep the café open – as the group has become a lifeline to so many people.
Open to all
Alice Houlden, cancer care co-ordinator for the Primary Care network, added: "The idea is to provide a comfortable, non-judgemental and happy place to come and spend time.
"We didn't want it to be classed as a specialist group, for a particular condition, we just wanted to create a space where anyone can come along, socialise and feel comfortable.
"Our aim is to make it a place which feels familiar, welcoming and somewhere you just want to be. It is something we are proud of and we're always happy to share its growing success."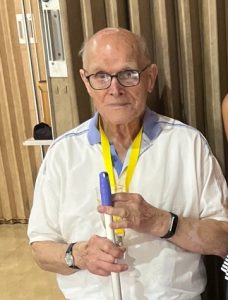 "Living his best life"
Albert Hamer will be 94 in just a few short weeks – but he has absolutely no plans to slow down at all.
Indeed, as the "chief meeter and greeter" at Selby's thriving Wellbeing Café, he admits he is living his best life – as he loves making people happy.
"It's all about having joke and a bit of fun or providing a shoulder to lean if needed. I love life, I really do, and I love to share that feeling," he said.
Albert was born in Barlby, near Selby, and worked as a processor at an oil extraction plant for decades – extracting everything from rape seed oil to soya and Evening Primrose oil.
"It was a dangerous job, as we were working with petrol, which could easily have exploded. You really had to concentrate hard – which meant we hardly talked to each other," he said.
"Years later, I worked in a shop and suddenly realised I had been in the wrong job all my life. It was brilliant to talk my head off to customers – and I haven't stopped since.
Happy to make people happy
"I tell stories about all sorts – like playing by the river as a child, watching ship launches and what the old town was like. Once I start, I just keep going – it wasn't like that at the plant!"
Albert married his childhood friend Ethel and, when she developed osteoarthritis, he helped her get around in a wheelchair. He later nursed her through dementia too.
"In her later years I used to tell her a joke on a morning and make her laugh. That smile used to stay on her face all day. That's what I try to do now as a meet and greet person," he said.
Albert, who was married for 64 years before Ethel's death, spends much of his free time volunteering at local groups and clubs – and loves getting out and about to chat to people.
He said: "It's all about making people feel welcome. I love making people happy, because it makes me happy too."