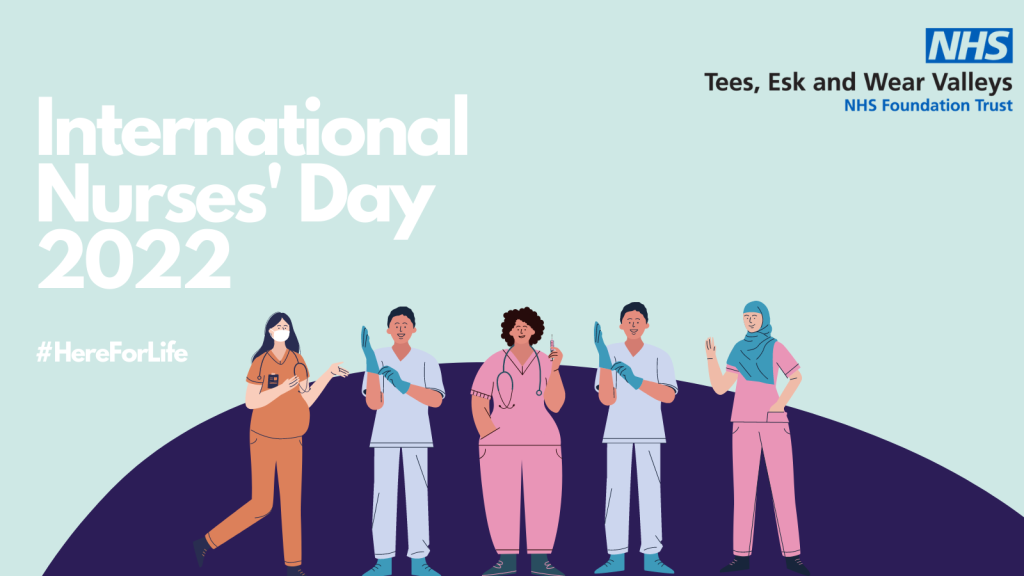 12 May 2022
This International Nurses' Day we're celebrating the outstanding contributions that nurses and healthcare assistants make within the NHS, our communities and for our patients.
Our nurses do an extraordinary job and make such a difference to people's lives, working with service users and carers across Durham, Darlington, Teesside, North Yorkshire, York and Selby.
Nursing is considered one of the most important professions in the UK and research to mark the launch of a new campaign has revealed that more than a quarter of people would consider a career as a nurse.
The #HereforLife campaignwill highlight the incredible, and often lifelong, commitment of nurses to their professions, as well as the huge amount of respect the public has for them.
#HereForLife is asking nurses to take to social media and share images that sum up who they are and what they do, to shine a light on the diverse roles and responsibilities of nursing staff.
Two of our Trust nurses, Claire and Jack have spoken about what nursing means to them.
Claire Baird, a Teesside CAMHS (children and adolescent mental health services) learning disability team manager, said:
"I never thought I wanted to be a nurse, but in 1995 I started my learning disability nurse training and wow… it was the best thing I ever did! My Mam was a learning disability nurse and I spent so much time with her growing up. "To be able to work with children and adults and help make a difference to people's lives and their family is amazing. Even seeing someone make the smallest or biggest of changes and the positive outcome it can have is indescribable. That's why I became a nurse and that's why I love my job. "Now that I also manage a team of TEWV staff is just the icing on the cake, my team are brilliant at what they do and it's a joy to go to work!"
Jack Sinclair, advanced nurse practitioner, said:
"To be a good nurse I think you have empathy and be a people person, you've got to be able to relate to that person's story so you can walk in their shoes to support them in the right way and work collaboratively. "I became a nurse and specifically a nurse working with older people because this group of individuals paved the way for the life I lead today. To be able to be a little part of their life and work with them to achieve recovery is inspiring, fulfilling, and absolute job satisfaction! They may forget my name, but they may never forget how I made them feel and for me that is really special."