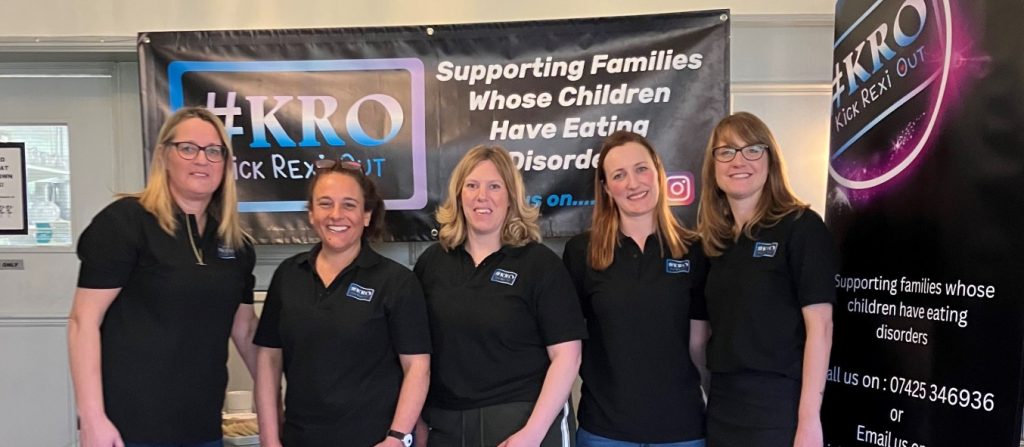 The parents of a teenager from North Yorkshire who ended up seriously ill after developing an eating disorder are aiming to set up a charity to help others in the same situation.
Donna and Paul Foster launched Kick Rexi Out, a support group for families managing life with an eating disorder, after one of their children was diagnosed with anorexia last year.
The project, backed by the Community Mental Health Transformation (CMHT) programme, NYCC Stronger Communities and Carers Plus Yorkshire, offers practical help and advice.
However, Donna – who now runs the group with a team of volunteers – ultimately aims to turn Kick Rexi Out into a charity, providing emotional and financial aid to those in need.
Helping hand
"We are not professionals, we are not here to diagnose or treat a child, we are here to support families through what we know is a very tough time," said Donna, from Wombleton.
"Ideally, if we got charity status, we could help even more – like paying for a taxi to get to appointments or helping out with a utility bill or shopping. Something to ease the burden."
Donna and Paul knew nothing about eating disorders until one of their daughters stopped eating last year. The condition came on fast – possibly exacerbated by the Covid lockdowns.
"It ripped through our family at speed. The anorexia in our house became known as "Rexi". She was like another person taking over our daughter's thoughts and actions," said Donna.
"Rexi is vile and very nasty and made our daughter extremely poorly. She exercised for hours, slept little and just stopped eating by the end. It was an awful, terrible time.
"Having our daughter admitted into a specialist care unit was the last resort, but it saved her life."
Grant help for group
Donna and Paul launched Kick Rexi Out following their daughter's diagnosis, to offer information and support to parents who find themselves in the same situation.
The Ryedale-based group has so far received grants from Bright Sparks and the CMHT programme towards its work – to fund a laptop, leaflets, posters, meetings and a website.
Members are also very appreciative of the support provided by Carers Plus Yorkshire, which is helping to advise on ways to turn the project into a charity.
"Kick Rexi Out is really going from strength to strength," said Donna. "We want to thank both the CMHT and Bright Sparks for the grants, which are amazing – as well as everyone else who has helped us.
"The next step is to put together a detailed information pack for parents and carers about eating disorders, as well as hold support sessions for people who end up in our situation."
Journey to recovery
Donna knows that the journey ahead will not be all plain sailing – but is determined to ensure that others in the same situation will be able to turn to the group for support.
"The strain the illness puts on a family is huge – both emotionally and financially. But Kick Rexi Out can help – carer to carer, and parent to parent," she said.
"The ultimate goal is to work alongside the NHS to help improve the support available to parents and eventually fund a community nurse. Together we can really change things."
Paddy Chandler, the Stronger Communities delivery manager for Ryedale and North York Moors, today praised the development of the Kick Rexi Out project as "inspirational".
Support in the community
"Their aim to support others, and in the long term to help improve systems, fits incredibly well with Community Mental Health Transformation objectives," he said.
"It is great to see Bright Sparks investing in, and giving confidence to, new grass roots community projects. This provides hope and motivation for everyone involved in CMHT and, most importantly, others facing the challenges of the effects of eating disorders."
David Kerr, the CMHT programme and delivery lead for North Yorkshire and York at our Trust, added:
"We are delighted to support Kick Rexi Out. The group is doing amazing work which aligns well with the aims of CMHT programme to increase and improve access to services.
"We want to link services across the whole system together. The ultimate aim is to reduce barriers to access and ensure services are provided in the right place at the right time."
A coffee morning for parents and carers looking after a child with an eating disorder will be held by Kick Rexi Out at Roost Coffee, Talbot Yard, Yorkersgate, Malton, on 16 March from 10.30am to 12pm. All welcome.