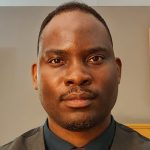 Patients will be put front and centre of their care following the launch of a pioneering new Trust team.
The North Yorkshire, York and Selby (NYYS) Co-Creation Board will work with patients, carers, families, partners and Trust colleagues to bring about positive change.
"We want to ensure that people in our care have a voice and choice over their well-being and care plans," said Charles Nosiri, lived experience care group director for NYYS.
"We also want to expand lived experience roles and develop lived experience leadership, so that everyone involved in the Trust can be heard – both now, and in the future."
Looking to the future
Members of the newly formed Board include Trust involvement members, governors and staff members – bringing together a wealth of health and lived experience wisdom.
"We want to nurture and grow patient and carer involvement across our Trust and are working on some great plans for the future. This is a very exciting time," said Charles.