Local people are being asked to share their views on proposals about the future development of community mental health services for adults and older people across Harrogate and Rural District and Wetherby and its surrounding areas.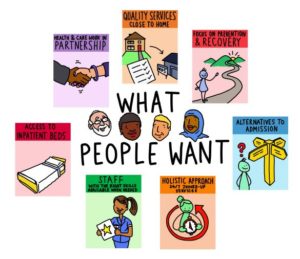 The proposed approach focuses on investing money in community services to support people at home wherever possible. It and has been developed by local mental health Trust Tees, Esk and Wear Valleys NHS Foundation Trust (TEWV), in partnership with NHS Harrogate and Rural District Clinical Commissioning Group (CCG).
A range of options were previously explored following engagement with local people and the proposed approach was the only option that allowed for maximum patient safety, whilst providing the best care for people as close as possible to their homes.
Naomi Lonergan, Director of Operations for North Yorkshire and York at TEWV, said: "By investing in community services we aim to reduce the need for inpatient admissions, as well as reducing the length of time people need to spend in hospital when they do have to be admitted. This is in response to what people told us they wanted during our initial engagement process and we now want to work with people to develop community services that will allow more people to remain at home.
"However, we appreciate that there will still be a need for some people to spend time in hospital and when this is the case we will make sure they receive care in a safe and high quality specialist environment. Inpatient care will be provided in specialist facilities in York where we are already building a new state of the art mental health hospital."
The proposed approach will release £500,000 each year to invest in local mental health community services for adults and older people and takes into account success from other TEWV areas, such as in Hambleton and Richmondshire, where community teams successfully support many people to stay in their own homes.
Dr Peter Billingsley, Clinical Lead for Mental Health for Harrogate and Rural District CCG said: "The work we have done to date involved the local community and gave us a clear understanding of what people want from their mental health services. We now want to work with local people to develop community services that will support prevention, early intervention and sustained recovery and help more people to remain in their home environment."
As part of the engagement process a number of drop in events will be held across the local area:
Thursday 25 July, 2pm – 4pm at Ripon Rugby Club
Friday 2 August, 4pm – 6pm at Fairfax Community Centre, Harrogate
Monday 2 September, 10am – 12noon at Chain Lane Community Hub, Knaresborough
Wednesday 4 September, 10am – 12noon at Wetherby Town Hall
Please advise us of any special requirements you may have to enable you to attend and participate in any of these events in advance by contacting TEWV's communications team on 01325 552223 or email tewv.enquiries@nhs.net
People can also feedback via, email and freepost.
To find out more about the proposals and how you can get involved visit our Harrogate engagement page.
Was this information useful? Please let us know by clicking here.