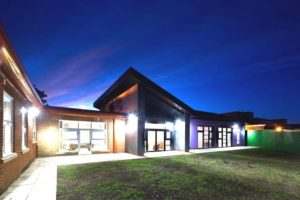 Newberry Centre
West Lane Hospital
Acklam Road
Middlesbrough, TS5 4EE
Main enquiries – 01642 529674
Newberry secretary – 01642 529673
Newberry ward clerk – 01642 529800
Please note that we currently do not provide inpatient services at West Lane Hospital –  Evergreen Centre, Newberry Centre and Westwood Centre are closed.
The Newberry Centre is our inpatient service based at West Lane Hospital, Middlesbrough providing care to young people aged 12-18 experiencing serious mental health problems. It is a modernised, purpose built, 14 bed facility.
Getting to West Lane Hospital
Information about getting to West Lane Hospital can be found here.
Referrals
Young people have to be referred to the Newberry Centre by medical/mental health professionals.
One telephone number to contact other Teesside CAMHS services
The child and adolescent mental health services (CAMHS) across Teesside has one telephone number to contact the appropriate CAMHS team for your area. To contact the team please call 0300 013 2000 and choose from one of the following options:
Option 1 – Training department
Option 2 – Middlesbrough CAMHS
Option 3 – Redcar CAMHS
Option 4 – Hartlepool CAMHS
Option 5 – Stockton CAMHS
Option 6 – CAMHS crisis and liaison team
Option 7 – CAMHS specialist eating disorders service (Teesside)