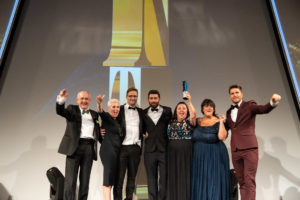 1 November 2019
Photo: members of the Cleveland liaison and diversion team receiving their award in London
One of our Teesside mental health teams which supports people in the criminal justice system has won a national award for its work.
The Cleveland liaison and diversion team won the Mental Health Nursing Award category at the Nursing Times Awards 2019, held this week in London.
The team, based at Cleveland Police's Middlehaven station, offers assessment and advice to people who come into contact with the criminal justice system as suspects, defendants or offenders and who have mental ill health, learning disabilities or other vulnerabilities.
National liaison and diversion services were set up in 2014 to make sure those who need it have the opportunity to be assessed by a mental health professional, so achieving better health and social outcomes for people who not only have mental ill health, but other needs including substance use, housing or financial issues.
Team manager Debra Bashford said: "Being based at the police station means we're on hand to quickly provide assessment and support to people in custody. However we don't only work with our colleagues at Cleveland Police, but also with partner agencies like social care, crisis teams and local suicide prevention strategy groups. We also work with the families of people who have come into contact with the police, as this can be a particularly difficult and distressing time for them too."
Editor of Nursing Times, Steve Ford, said: "The Nursing Times Awards showcase the innovation and best practice of nurses and midwives up and down the country. Hearing about the groundbreaking work being done by nurses around the UK to improve patient care never ceases to amaze me."