For the last five years we've been part of the Health Education England Project Choice Supported Internship programme.
This Learning Disability Week we are sharing how together, we are supporting, young people with learning difficulties to gain valuable work experience and skills to support their journey into full-time employment by partnering them with 12-week placements across our organisation.

Since the partnership began in 2017 we've supported over 60 young people, aged 16-24 who have a learning disability or autism, with internships across the Trust. The young people we've supported have worked in a range of departments from HR, training and education and IT to estates, maintenance, and hospitality. Many have gone on to secure full-time, permanent positions as a result of their placement with us.
Most young people hope for employment when they leave school or college, but for many with learning difficulties it can be challenging and daunting. Project Choice helps young people gain the valuable skills and experience they need to move into the world of full-time work. It gives them the confidence and helps them to develop good workplace relationships.

Sarah Tonner, regional manager for Project Choice
I've watched so many young people come through the Trust as part of the programme and it's been an absolute pleasure to watch them grow. Some have even gone on to take up full-time permanent positions with us. Every young person should have equal opportunities and as a learning disability trust we are proud to be able to support people in this way, outside of our usual care channels.

Laura Miller, HR Manager at TEWV
Alex and Ben's story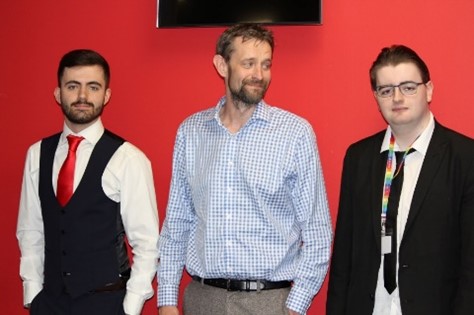 Alex and Ben both completed a placement in our IT Department prior to the pandemic and really excelled. Their role was to update, configure and distribute laptops to staff across the trust. Both integrated quickly into the IT team and learnt many valuable work and independence skills, which not only built their confidence but allowed them to progress onto an IT apprenticeship with the Trust. Alex and Ben's mentor within the IT department was extremely supportive and encouraged them to develop their IT skills, as well as taking them on visits to other NHS sites to learn about various IT systems.
Commenting on the experience Steven Forster, Technical Delivery Manager, said: "I really enjoyed working with both Alex and Ben, they fit right in straight away and were so eager to learn. It was a real privilege to work with them and see their skills and confidence develop."
You can achieve great things with Project Choice.

Ben
Brianna's story
As part of an extended six-month placement, Brianna worked within the sandwich bar and café at West Park Hospital, Darlington, in which she thrived. Her roles included prepping the food and drink stations, making wraps and sandwiches for lunch time, as well as engaging with both colleagues and service users. Brianna loved her time at the trust.
I loved my time at West Park and Project Choice, working with Fiona and the team. My confidence has improved massively and now I know I am able to get a job. Thank you West Park, I hope you can help more people like me in getting this opportunity.

Brianna
The Trust is committed to supporting people with learning disabilities to live their best life and proud to be able to work in partnership with Project Choice to be able to give young people the opportunity to develop their life skills and career opportunities.
Project Choice
Project Choice is a specialist College providing tailored educational support, and a supported internship course for young adults aged 16-24 with learning disabilities/difficulties and/ or Autism.
Project Choice covers large parts of the North of England, Yorkshire and Humber, London and the South and is continuing to grow. The College partners with NHS healthcare settings, local organisations, and private businesses to create supported work environments to provide real work experience for Interns.
Support is tailored to each Intern, based on their skills and interests. Interns spend 1 year learning math, English and employability skills and attend up to three, 12-week placements with a Project Choice Partner.
The College is supported by the NHS as part of the ongoing commitment to improving employment outcomes for vulnerable groups.
In 2020 – 2021 50% of Project Choice interns went on to enter paid employment, apprenticeship, or volunteering roles. 40% went on to complete further education courses.
For more information email Project.Choice@hee.nhs.uk