04/02/20
One in four people will experience mental health difficulties each year.
We are supporting the national campaign Time to Change and reminding people that it's time to talk about their mental health.
This Time to Talk Day (Thursday 6 February) we are asking for your help to  break the silence and end the stigma which can surround mental ill health by starting a conversation at home, work or on-line.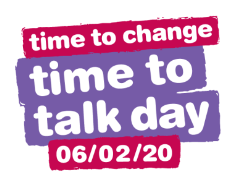 Dr Ahmad Khouja, medical director at TEWV, said "Opening up about how we're feeling is really important for good mental health.
"In times of trouble it can be hard to reach out and say we're having a tough time but often the simple act of voicing our worries is enough to help us sort through our thoughts and reduce feelings of anxiety.
"Just taking a moment to ask someone if they are ok, giving them the space to express how they're feeling and listening to what they say can make a huge difference.
"Conversations also help us to feel connected to other people, so having a chat to someone who is struggling, even if it's not about their health, can have a positive impact and help them to feel less alone."
Staff and service users from the Trust are also involved in events to support Time to Talk day: 
North Yorkshire and York
Friday 7 February 2020
2.30pm-6.30pm
Temple Hall, York St. John University, Lord Mayors Walk, York, YO31 7EX
FREE
The early intervention in psychosis team, York and Selby are hosting a community drop-in event on Friday 7 February where you can find out about local mental health services, have a chat and pick up some tips to improve your wellbeing.
County Durham
Thursday 6 February 2020
10.30am-1.30pm
Lantern Room, Durham Town Hall, Durham.
FREE
Staff and students from Arch Recovery College in Durham are taking part in a Time to Change pop up Choir Event to raise awareness and challenge the stigma which can surround mental ill health.  The event is free and everyone is welcome.
Time to Change said…
Jo Loughran, Director of Time to Change, said: "Conversations have the power to change lives – helping to end the isolation, shame and worthlessness that too many of us feel when experiencing a mental health problem.
"Starting a conversation about mental health might seem daunting but simply sending a text, checking in on a friend or sharing something on social media can break the ice."
To find out more information visit www.time-to-change.org.uk/timetotalkday