Year of the Nurse and Midwife – people stories
Jane Rogers, ward manager, Westerdale South ward (organic acute dementia assessment ward), Sandwell Park, Hartlepool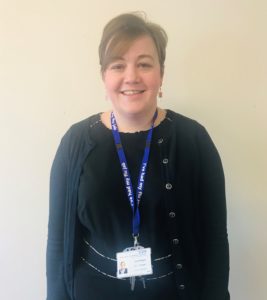 On a typical day
I am ward manager for Westerdale South ward at Sandwell Park, Hartlepool. The 14-bed unit is an organic dementia acute assessment ward which provides assessment and treatment in all aspects of daily living. We also support patients in moving on from hospital and ensuring this is a safe and smooth transition.
As a manager, I have a responsibility to ensure that the care and safety of our patients is maintained and I support the team to deliver effective and patient-centred care.
Good nutrition and hydration is essential; especially with the client group we care for as poor diet and fluid intake can lead to a quick deterioration in physical health.
Recently we cared for a patient who became very sedated following medication prescribed. Due to this, the patient was very lethargic and there was a significant deterioration in their diet and fluid intake. At this time, my role was to support the team to ensure adequate diet and fluid intake to prevent physical deterioration and admission to the acute trust. This was through individual support for staff and awareness around the importance of good nutrition and hydration and also ensuring that regular reviews were carried out within the multi-disciplinary team (MDT). This proactive and consistent approach resulted in an improvement in the patient's intake and maintained their physical wellbeing.
Our ward recently set up our 'Fish and Chip Friday' – each week fish and chips are delivered to the ward and both patients and staff eat these together. This has been a great way of promoting nutrition and hydration but also has been an enjoyable experience for both patients and staff which the team look forward to each week.
One way I've made a difference as a nurse or midwife
Educating and supporting staff around the importance of nutrition and hydration for our patients and ensuring this is promoted on the ward. Being a Type One Diabetic myself makes me more conscious around diet and fluid intake and feel I have been able to share my own experiences and knowledge with the team.
What would you say to someone considering a career in nursing or midwifery?
Nursing is a rewarding career where you can really make a difference. Always keep patient centred care at the heart of what you do, patients may not remember you but will always remember the way they were cared for.