20/07/2020
Chaplains have been using online technology to lift people's spirits during the coronavirus pandemic; exploring new and innovative ways to reach service users, carers and staff.
Quickly adopting new communication methods, the dedicated team have made sure they remain visible and available to people in need of spiritual support. From live streaming chaplaincy services to hosting individual video appointments, the chaplains have welcomed new technology to help people make sense of their experiences and find hope in these challenging times.
They have also developed a range of online resources which are available via the Recovery College Online, including a series of twenty minute films featuring music poetry and imagery to help people reflect and attend to their spiritual needs.
In Teesside…
Trust chaplain, Osaro Omobude, has been offering tele-chaplaincy services to patient's staying at Ridgeway, part of Roseberry Park in Middlesbrough, including bi-weekly drop in sessions using telephone conferencing systems.  Video technology has also enabled Osaro to deliver sacraments such as blessing the sick and he has plans to deliver a live streamed memorial service for those whose friends or relatives have died during the pandemic.  A thanks giving celebration in recognition of those who have recovered from COVID-19 is also being prepared.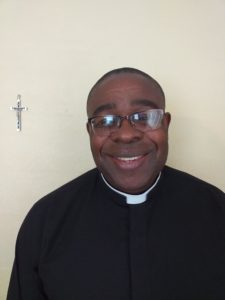 In North Yorkshire…
Graham Peacock, chaplain in North Yorkshire has been working closely with staff at Rowan Lea in Scarborough, to deliver a chaplaincy service which is live streamed to the unit each week.  Graham provides the unit with orders of service, prayers and songs in advance so as many people as possible can join in.
Karen Ashby, ward manager said "This is an exciting venture and our patients are amazed by the new technology that is supporting us to attend to their spiritual needs. They have particular enjoyed the music and songs so we have also introduced a weekly music group on the ward called the 'Rowan Lea Rockers'. It has been heart-warming to see the increased confidence of those taking part and our singing abilities are getting better too!"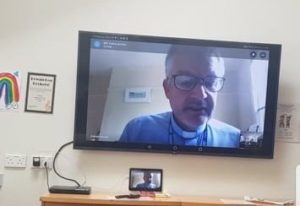 In York…
Liane Kensett has also been working hard to establish chaplaincy services at new hospital, Foss Park, which opened its doors to service users in York during the pandemic.
Since the move to Foss Park, Liane, a trust chaplain, has been working with occupational therapy staff and activity co-ordinators to offer weekly chaplaincy services via MS teams as well as coordinating a series of twenty minute films featuring music poetry and imagery to help people reflect and attend to their spiritual needs. Spirituality based activity packs have been shared with wards and a retreat space has been created in the hospital's faith centre for quiet prayer and reflection.
John Skidmore, digital lead for Humber, Coast and Vale Health and Care Partnership, said: "It's great to see colleagues in our partner organisations embracing digital technology during the COVID-19 pandemic so they can provide services they normally would offer face-to-face in a different way. I've been encouraged by the vast number of examples across Humber, Coast and Vale in recent months where health and care staff have continued to provide excellent care or support services by adopting digital communication methods and technology they wouldn't otherwise routinely use."
…and in County Durham and Darlington
Debbie Baker has newly joined the chaplaincy team and has been using this time to get to know hospital staff and patients, as well as getting to grips with new IT systems to help her in her role.
We said…
Colin Jay, head of chaplaincy at the trust, said: "Spirituality is central to positive mental wellbeing.  It's not necessarily about being religious but more about what makes us tick, what keeps us going and what gives our lives meaning. In times of uncertainty or distress it's more important than ever that people are able to access the support of chaplains.
"One of the main aims of chaplaincy is to be there, to listen and to offer hope.  Restrictions to stop the spread of the coronavirus have presented challenges to our team but I have been inspired by the resilience, tenacity and creativity our chaplains have shown.  Their commitment to those being cared for by the trust has been phenomenal.
"The new ways of working have enabled us to support more people and have helped us to reach those we normally would not have had contact with.
"We hope that, as lockdown eases a little, people will be seeing more of their chaplains around our hospitals and that some of our face-to-face conversations can resume. In the meantime we are planning more films, online services and groups to help people remain connected with their spiritual needs."