05/02/2019
A team dedicated to raising awareness of mental health problems affecting children and young people turn five this month.
Since their launch in February 2015, our child and adolescent mental health service (CAMHS) training team in Teesside has delivered training to over 6,000 parents, carers and professionals from across the area on topics including anxiety, eating disorders and self-harm.
The rolling training programme aims to give those in attendance a basic understanding of the problems young people may experience and some strategies that could be helpful in managing these. Sessions covering attachment, attention deficit hyperactivity disorder (ADHD), emotional wellbeing, sensory processing difficulties and autism spectrum disorders (ASD) are also available.
Background
Originally developed to provide training to professionals working with children, young people and families in Middlesbrough, the service soon progressed to offer a rolling programme of free mental health awareness sessions for professionals from children's services across the Tees Valley, including in Redcar and Cleveland, Hartlepool and Stockton-On-Tees.
Following positive feedback, and recognising the potential benefit to families concerned about their child's mental wellbeing, the service developed a second training programme for parents and carers living in the area.
Local schools also benefit from the support of the team who offer bespoke training packages and mental health first aid for teaching staff. A specialist session was also recently delivered for sports instructors working with young people in the community.
TEWV said…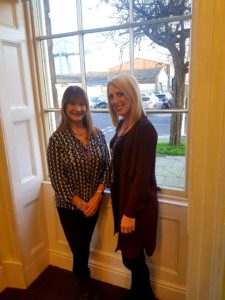 Tracy Mitchell, team manager, said: "The first symptoms of mental health difficulties often appear before 24 years of age.
"We know that experiences in childhood can have a huge impact on our lives; affecting the relationships we form, our academic achievements and emotional resilience.
"It can be hard to spot when a child or young person is experiencing mental health problems as they often find it difficult to explain their feelings.  The sessions we deliver aim to increase  knowledge and awareness of the tell-tale signs a young person may not be doing okay, as well as giving attendees the confidence to positively respond to situations they may encounter.
"Equipping people with the skills to support those experiencing emotional or mental health difficulties helps to improve outcomes for children and young people and minimise the impact of childhood mental ill health.
"Parents who have attended our courses tell us they've helped them to see that they are not alone and say they have given them the opportunity to start helping themselves and their family.  Feedback from professionals has also indicated that the training has helped them to more effectively meet the needs of those in their care."
More information…
To find out more about the CAMHS training team or the free training sessions available please visit www.tewv.nhs.uk/CAMHStraining.