Occupational therapy staff from the Trust had a blooming lovely time at the Chelsea Flower Show's 'gardening for health' forum recently after they were invited to share their experiences of using gardening as an intervention to improve health and wellbeing.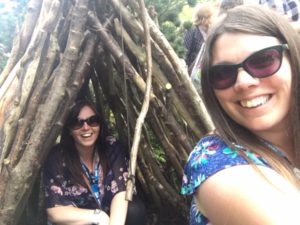 Caroline Strathearn and Hayley Williamson were invited by NHS England and The Royal Horticultural Society following their involvement in a joint gardening project for people who have experienced mental ill health.
Commenting on the experience Caroline, TEWV occupational therapist said: "It was a real honour to have been invited to the forum, where we were able to share our experiences of gardening as a therapeutic intervention with representatives from 30 other mental health trusts.
"The forum was part of a social prescribing network, which includes individuals and services who want to bring people and communities together to combat social isolation and improve mental health and physical wellbeing."
The gardening project that Caroline and Hayley are involved with brings together patients from TEWV's Ayckbourn Unit, people supported by North Yorkshire County Council's support time recovery service and those involved with Scarborough Survivors, a mental health charity. Sessions are held at Cross Lane Hospital every other week and weekly during the summer.
Hayley, TEWV assistant occupational therapist, said: "The scheme is really well attended and there's always a lovey calm and friendly atmosphere. It's great to be able to watch people grow in confidence, develop new skills and forge new friendships. All of which naturally help aid their recovery, and for our patients it can support the transition between hospital and the community."
If you would like to find out more about gardening as an intervention, or the Scarborough gardening project contact Caroline.Strathearn@nhs.net.
Was this information useful? Please let us know by clicking here.